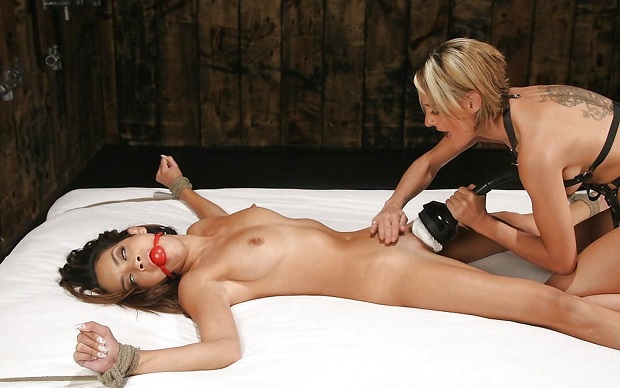 The porn industry has created a little vanilla idea of lesbian bondage as a sexual experience. It all seems to be kisses, cuddling, and lovely tender touches. However, although things seem quite lollipopish, lesbians still have the right to have rougher preferences in the bedroom.
This is no surprise as, after all, they are human beings just like any other heterosexual couple. They do love spanking, biting, and harsher love. And this, of course, includes bondage! At the end of the day, everybody wants to be happy and satisfy their own sexual desires!
As this is a topic quite interesting but still not developed in a real discussion, I am here to give you some tips and advice about how to perform lesbian bondage and how to enjoy it to the fullest!
Entering The Lesbian Bondage
First of all, manage to have a quick chat with your girl to make sure that you are fine with the idea of bondage. This will give you either a huge NO or a clear consent about what you have on your mind!
Equipment For Lesbian Bondage
Sex is not war, but lesbian bondage equipment is needed! Yes, you can use everything that you find at home, but it is not just a money machine that people created specific accessories for these practices. They are much more tender to the skin. This is important as we are women, and we spend a shit load of money on hydration skin products. We do not want them wasted, right?
There are ropes and other bonds that, first of all, not that rough, and also, very light. This is important as we want to be quick in doing the bondage, but we also need this lightness if there is an emergency case, and we have to react real quick and easy! So, one of my basic tips is to go for specialized equipment!
Basic Rules In Lesbian Bondage
Another important thing before you even start practicing is to get to know the basic rules. The most important one is that you need a color-coding or just a single word that will indicate if there is a problem. You use it whenever you feel uncomfortable, and the game stops at the very moment. It is not only a matter of physical pain but also a matter of mental stability and calmness.
I highly encourage you not to be afraid of using it whenever needed, without any guilt. It should be a pleasure for both partners, and understanding each other is required!
Setting The Lesbian Sex Environment
Let's break the basic vanilla idea of lesbian sex! You have to set an environment. It might be some grey metallic sterile atmosphere if you want to have a harsher experience. On the other hand, you can light candles, put the sateen sheets, and enjoy a sensual experience of blindfolding and a little pleasurable pain in the bedroom.
This is again a question of personal perception of how things should go. It is good to know that it would be nice to try different options for atmospheres, so that you can find your style. They you shall keep rolling with it!
Tease With Your Sex Partner
When you have already bond your partner, it is time to start exploring their sensations. A thing to do is start teasing your partner. Use whatever you feel comfortable with to stimulate your partner. If your partner is down for the tender sensations, then go for light touches, tickling, kisses, etc. If they are happy with harsh moments, then slapping, biting, poking should work!
Just do not cross the line of sexuality, and stick to simple stimulation! Take a long walk around her nipples, and go down, down to the garden of Eden, and then down her toenails!
No Erogenous Zones Are Missed In Lesbian Bondage
As women, we complain all the time how men tend to miss some of our erogenous zones just because they do not know that they actually are such! Happily, we do not have this problem here! We know our bodies quite well, and thus, we know our partner's body! You have no right to miss a zone a moment of pleasure! A little tip now is that the lower part of our legs are super sensitive, and it could be so nice if you give spare some time, kisses, and bites for them!
Lesbian Bondage Specifics
If you spend too much time teasing your partner, this is not a problem! No woman ever complained about too much foreplay, right? However, at some point, time for the real action comes, and there is nothing new to tell you. On the other hand, you have to know that lesbian sex in bondage has some specifics, which, in my personal view, are more physical than anything else.
A thing to mind is that your girl is not able to move around as she usually does, so pay attention to what position you are using. Make sure that this practice is not bothering her and not making her feel much physical pain. It is a whole new story, tho if she likes it. If this is the case, you have to set a line, which is not to be crossed by any chance!
Lesbian Aftercare
This is the last part, but definitely not the last by importance. Aftercare is a significant part of BDSM practices. When everything is over, you have to create a ritual of going back to reality. This might be cuddling, music, tea, sharing the impressions of the experience, the ideas and things that created even just a pinch of discomfort!
Final Thaughts On Lesbian Bondage
Although there is the fantasized idea of lesbian sex, bondage can still be a part of it! If you are new to it, then the thing to reach first is to lose any prejudice! Follow your sexual desires, and you will not be disappointed! Watch out to be safe and sound, as well as to have as much fun as possible! Things are quite simple, and all that you have to do is find what you and your partner like and to explore it to the fullest! Bond and fuck is the way to go! Have fun!